The Fisker Karma is a plug-in hybrid luxury sports sedan revealed at the 2008 North American International Auto Show. It is the first car from Fisker Automotive, a new auto maker based in Anaheim, California, founded on 5 September 2007. The Fisker Karma is being manufactured at Valmet Automotive in Finland.
After missing its initial late 2009 launch, Fisker Automotive and re-scheduling several times, deliveries began in the U.S. in late July 2011. The Fisker Karma will sell for US$95,900 for the basic model, and US$109,850 for the top model.
The Karma is technically a series hybrid, driven by a pair of electric motors totaling 403hp that get their power from a 22 kWh lithium ion battery supplied by A123 Systems, or a 175kW generator spun by an efficient, 2.2L gasoline engine. The engine is mated with a generator to provide an electrical connection to the motors and also recharge the batteries and as such the electric motors are the only mechanical driving force connected to the wheels. The proprietary Q-Drive hybrid drive train is supplied by Quantum Technologies, which operates in a joint venture with Fisker Coachbuild known as Fisker Automotive.
The Karma includes as standard a solar paneled roof manufactured by Asola Advanced and Automotive Solar Systems GmbH, a Quantum Technologies affiliate, not only to aid in the recharging of its Lithium-Ion batteries but also to aid the cabin climate control system. The solar roof is capable of generating a half kilowatt-hour a day[13] and is estimated to provide up to 4 to 5 miles (6.4–8.0 km) of additional range a week assuming continuously sunny days. Additionally, the car will offer a set of solar panels for the garage/house which may charge the Karma entirely 'off the grid'.
Although Fisker Automotive has yet to release solid statistics regarding Karma's fuel economy, the company estimates the average driver could refill the fuel tank just once annually provided they do not drive more than 50 miles (80 km) a day. Fisker Automotive has also suggested that the Karma will be capable of 100 miles per US gallon (2.4 L/100 km) and a range of 300 miles (480 km). Despite its eco-friendly background the Karma features a 125 mph (201 km/h) top speed and is capable of reaching 60 mph (97 km/h) from a standstill in 5.8 seconds.
The Karma's two 201 brake horsepower (204 PS) motors produce 1,300 newton metres (960 ft·lbf) of torque, more than the Bugatti Veyron at 1,250 N·m (920 ft·lbf).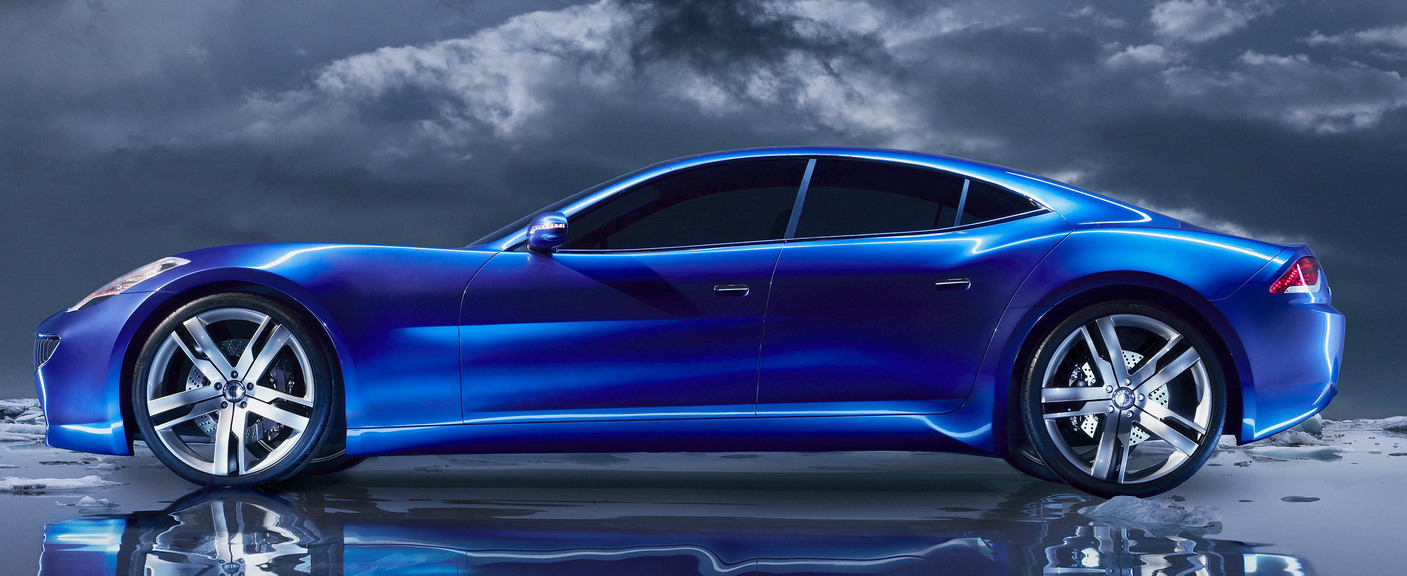 The base model features an "eco-friendly interior", including salvaged lumber from fires or even from lake bottoms. Optional leather seating is available, but it will use much more of the cow hide than would customarily be found on luxury models—hides with scratches and other mars (which should not affect functionality) will be used.
The Fisker Surf was unveiled at the 2011 Frankfurt Motor Show — described by Automobile as a shooting-brake. Sales of the four-door plug-in hybrid, which has the same range as the Karma, are scheduled to begin in 2013.[31] The Surf's entire powertrain, chassis, and interior are identical to the Karma sedan, with the only major cabin change being the additional room in back for a couple of adults, and expandable room in the back is up from 7.1 cu ft (0.20 m3) to anywhere from 12.7 cu ft (0.36 m3) to 29.0 cu ft (0.82 m3). Overall weight on the Surf versus the Karma increases by just 77 pounds (35 kg).