The Bugatti EB110 is a mid-engine sports car from Bugatti Automobili SpA. It was unveiled on September 15, 1991, in both Versailles and in front of the Grande Arche at La Défense in Paris, France, exactly 110 years after Ettore Bugatti's birth. The car has a 60-valve, quad-turbo V12 powering all four wheels through a six-speed gearbox. The 3.5 L (3499 cc) engine has a bore of 81 mm (3.2 in) and a stroke of 56.6 mm (2.23 in) and is capable of 553 hp (412 kW; 561 PS) at 8000 rpm. Acceleration to 100 km/h (62 mph) takes 3.4 seconds, and the GT has a top speed of 213 mph (343 km/h).[1]
The car uses a double wishbone suspension, with the chassis built by Aérospatiale, an aircraft company, and made from carbon fibre. Equipped with Gandini's famous lifting scissor doors, it has a glass engine cover that provides a view of the V12 engine along with a speed-sensitive electronic rear wing that can be raised at the flick of a switch. The shift-knob is placed closer to the driver so that less time is taken to shift. Five pre-production prototypes with aluminum chassis were built, followed by eight with composite chassis. Following these, it is believed that only 95 GT and 31 SS production models were constructed.
In 1992, a lighter and more powerful model with 603 hp (450 kW; 611 PS) at 8250 rpm, the EB110 SS (SuperSport) was introduced. This car is capable of 216 mph (348 km/h) and 0-100 km/h (62 mph) in 3.2 seconds.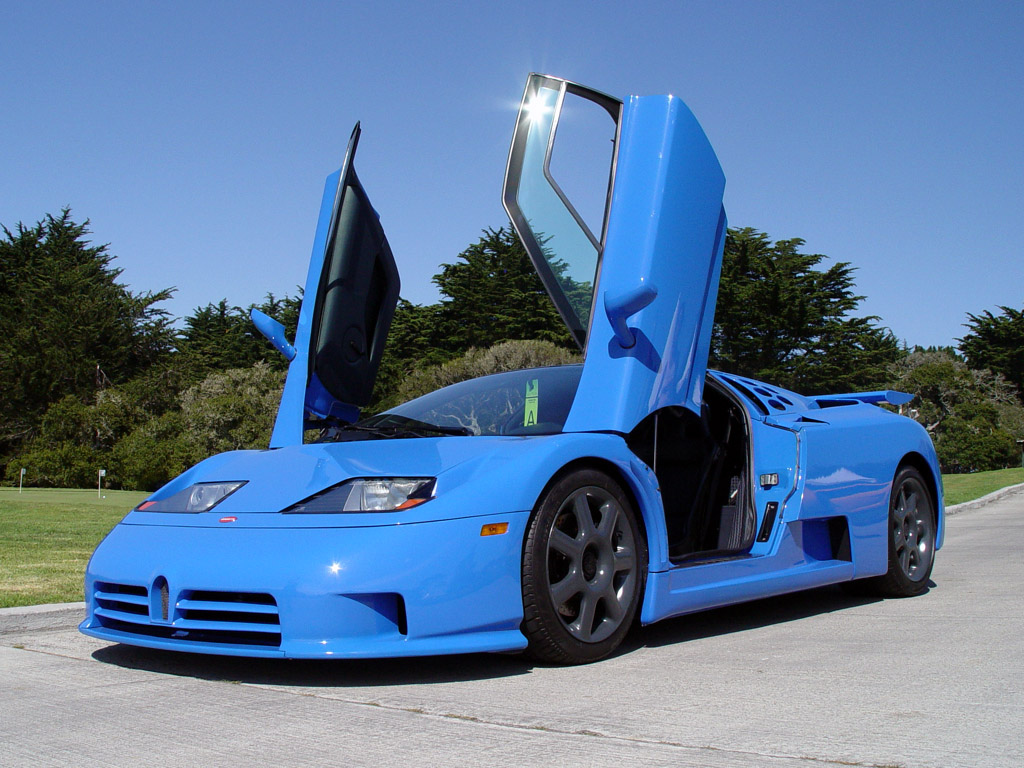 Early in 1994 Formula One driver Michael Schumacher purchased a banana-yellow EB 110 Super Sport, giving the company a great deal of publicity.[2] Derek Hill, son of American Formula One Champion Phil Hill, was one of the three drivers on a team that competed with an EB 110 in the United States at the 1996 24 Hours of Daytona.
Hard times hit the company in 1995 and, as result of chairman Artioli's over ambitious purchase of Lotus in addition to the company's quest to develop the EB112 four door car, the company was bankrupt. Dauer Racing GmbH of Nuremberg, Germany, bought the semi-finished EB 110 cars in the assembly plant plus the parts inventory through the bankruptcy trustee. The remaining chassis and a version of the engine were later developed by B Engineering into their Edonis sports car.
Despite later racing for Ferrari from 1996 onwards and a high profile collision with a truck the previous year (for which he blamed the braking system) Schumacher continued to retain the EB110SS. Schumacher sold the car in 2003 to Modena Motorsport, a Ferrari garage specialising in service, race preparation and sales of classic Ferraris in Germany.