The Lamborghini Reventón (Spanish pronunciation: [reβenˈton]) is a mid-engine sports carthat debuted at the 2007 Frankfurt Motor Show. It is the most expensive Lamborghini road car to date, costing one million euros (~US$1.5 million, or ~£840,000).[1] Its top recorded speed was recorded in Dubai, UAE at 356 kilometres per hour(221.2 mph). The official press release stated that only 20 vehicles would be sold to the public,[2] with one additional car (marked as 0/20) produced for the Lamborghini Museum.[3] Although early rumors indicated the total number would actually be 100,[2][4][5] each Reventón is clearly stamped with its number in the sequence of 20 between the driver's and passenger's seats.




Despite the exterior being new,[2] almost all the mechanical elements (including the engine) are sourced directly from the Murciélago LP640.[6]According to the official press release, the Reventón exterior styling was inspired by "the fastest airplanes".[7] To emphasize this, Lamborghini staged a race between a Reventón and a Panavia Tornado fighter plane on a 3 km long runway. The Reventón was in the lead for most of the race, but the Tornado caught up "in the last few feet" of the race.[8]

The Reventón is named for a fighting bull, in line with Lamborghini tradition. The bull, raised by the Don Heriberto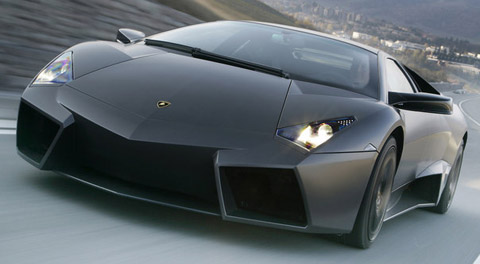 Rodríguez family, was best known for killing famed Mexican bullfighter Félix Guzmán in 1943.[9][10] Reventón means "explosion" or "burst" in Spanish, when used as a noun.[11][12] In the vernacular, it is also used to define a very large party or a night in town. In automotive terms, it means "blowout, flat tire" when used as a noun.[13] When it was used as the name of a bull, however, it was intended to be interpreted as an adjective, a quality or property of that bull in particular. In this last sense, Reventón means "he who seems to be about to burst".